Welcome to the Rock Shrimper Owners Webpage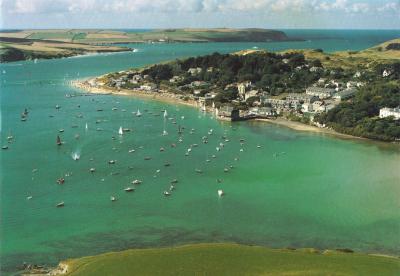 Across from Padstow on the Camel Estuary in Cornwall, Rock is a holiday mecca and home of the Cornish Shrimper, built by Cornish Crabbers in Wadebridge nearby.
Crabber's Shrimper 19 is the predominant sailing boat here and indeed the only single class fleet of Rock Sailing & Water-Ski Club.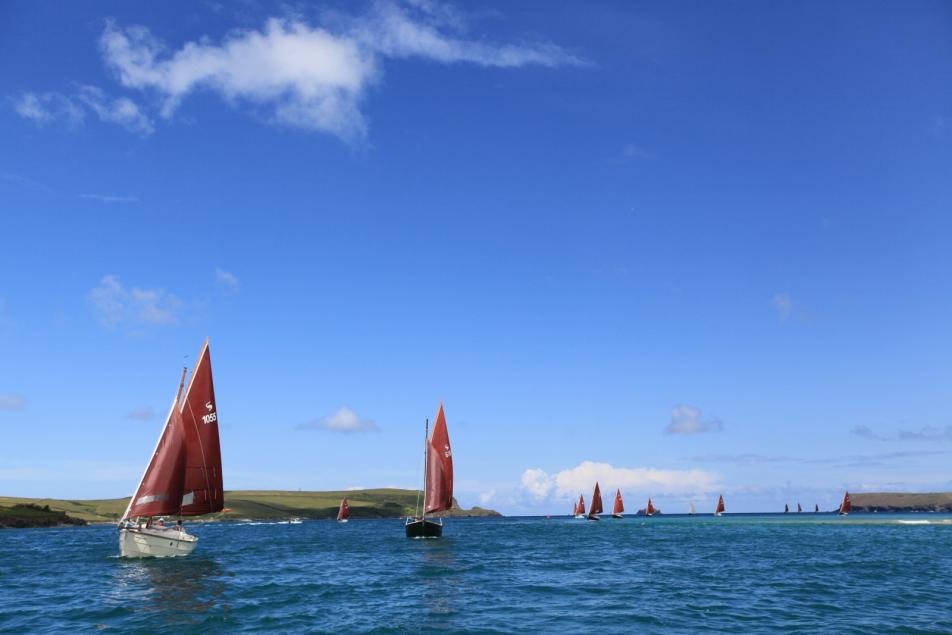 In a good summer more than sixty holiday-maker or resident Shrimpers may be seen on moorings at any one time with up to 40 used for racing throughout the spring, summer and autumn seasons. Club series races each attract around 6-12 boats, with class regattas or opens at typically twenty to mid-30s. Shrimper 21s are becoming evident and are welcome to join us for racing or play.
Most resident Shrimper sailors are retirees living nearby and given the quality of sailing on the estuary, tend not to travel. This is no walk-over fleet however, with a Gold Olympian and champion ex-dinghy sailors in its ranks. Equally, many newbie sailors have embraced the class and most manage to have their day.
Here as elsewhere the class is marked by its sociability and for many this is the initial attraction. Unsurprisingly the craft is also popular for day-cruising, fishing and just messing about with the family.
Visiting Shrimpers are of course welcome and may be towed onto the beach and launched at suitable tides in an area adjacent to the sailing club. There are no lifting facilities nor pontoons but simply drying-out floating moorings. Unless sailing and recovering on the same day (hard work and improbable logistics) then it is necessary to contact Padstow Harbour Commission and book use of a visitor mooring. Long-term moorings are in short supply and on a lengthy waiting list, but if you are contemplating a move to Rock in a year or two then now is the time to put your name down with PHC!
Boats are permitted on moorings from the start of April through to the end of October, with racing usually from around Easter to the start of October.
Series racing and the odd special races apart, RSWC's Shrimper open events are spread across the season. A shakedown "Spring Fling" clears the cobwebs in May, Peter Keeling Shrimper Week comes in June, Camel Week Shrimper Regatta in August and finally a few days of cruising and silly fun races wind us down in September.
If you are considering a recce without a Shrimper in tow then maybe these other Rock attractions may persuade you to visit:
Golf - St Endoc Golf Club at Rock and the Point Golf & Country Club at Polzeath
Water Skiing - Available through Camel Sailing & Power Boat Centre at Ferry Point
Surfing - Polzeath is a serious rival to Newquay and one of the finest surf spots around
Fishing Trips - Available through various operators in Rock
Cycling - The Camel Trail (Bodmin to Padstow) is a very popular day trip with wonderful coastal views
Walking - The South west Coastal Path (National Trail) includes short or long scenic walks along the coast
Sandy Beaches - Simply the best anywhere
SOA Rock contact:
Rob Harris (Mallard 591)
Hon Sec (Rock)
Email: robert-harris@btconnect.com
Tel: 07770 916174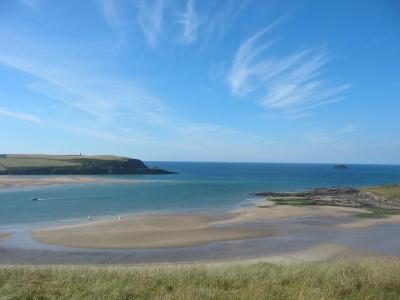 The area between Wadebridge and Padstow, including Rock, has been designated an Area of Outstanding Natural Beauty (AONB).