Shrimper Sailing in Portugal
The SOA has no formal organisation in Portugal. Locally 2 boats sail in the Lisbon area on the River Tagus.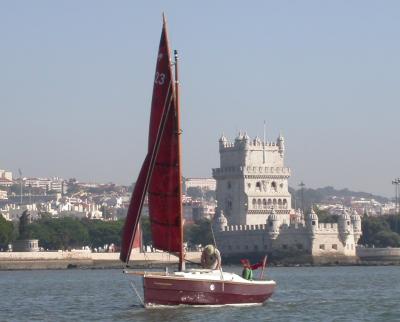 Most well known for its beaches on the south coast of the Algarve, Portugal has many interesting places to sail the Shrimper.
From the River Douro up north with its famous slope vineyards producing the world famous Port Wine, to Lisbon and the 50 miles Tagus estuary extending from its mouth near Cascais to Valada do Ribatejo, to the big lakes of Castelo do Bode or Alqueva dam along the Zêzere and Gaudiana rivers, you will discover wonderfull scenery, mild climate and good hospitality.
In October 2008 3 Shrimpers and a Crabber 22 made the long journey to Portugal and theri report can be accessed via the following link:-
Report of the UK Shrimpers visit to Portugal 2008
It is now time for other SOA members to pick boats and trailers and drive south with family and friends. Local owner, Francisco Gomes is happy to provide information to any prospective visitors. Contact Francisco at:-
francisco.gomes118@gmail.com 00 351 914550695