Welcome to SOA Falmouth
The map shows the main sailing areas of our 100+ members, comprising Carrick Roads with its many creeks, Falmouth Bay and the Helford River. There is also the Fowey estuary and river 20 miles to the east. The aerial photograph looks west over the Percuil River and St Mawes Harbour, and on to Carrick Roads with Falmouth, Flushing and Mylor in the background. Very adventurous sailors have been known to sail from Falmouth to Fowey and Plymouth or as far west as the Scillies, but most are content to venture no further seawards than Falmouth Bay. We are blessed with deep water (see St Mawes harbour above) resulting from rias or drowned river valleys being formed in prehistoric times, and only up the creeks do we have to watch the tide.
The range of activities in our area include Club Racing, Village Regattas, Falmouth Week (7 days of racing and socialising), Fun Week, Creek Crawls, Day Sails/Barbeques, and Sunday Lunches in the winter. Calendars are published for the season and Fun Week, plus periodical Newsletters. The majority of our members belong to one of the six local sailing clubs, these being St Mawes, Mylor, Flushing, Helford, Restronguet and Percuil (see Links). Each club has its own web site and programme. There is also the Royal Cornwall Yacht Club which caters for larger boats. Note that after any of the many racing events there is usually a social gathering open to racers and non-racers alike.
Club Racing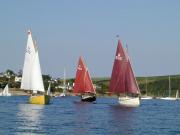 St Mawes and Mylor have class starts for Shrimpers, members of all local clubs being eligible to participate. Shrimpers can also usually start in the gaffer class at other clubs. St Mawes hosts Spring and Summer Points series with racing on Sunday mornings and Thursday evenings, and an Autumn Pursuit series (where the slowest boat starts first and the others at intervals over the next 40 minutes). Mylor host Friday evening races throughout the season.
Village Regattas
There are eight village regattas throughout the season which are relaxed afternoon events followed by cream teas at which all are welcome. Entry forms are available on the POFSA (Port of Falmouth sailing Association) site (see Links) where it is possible to enter very easily on-line. It is also possible to enter on the water via the late entry boat which will provide race instructions. Courtesy boats will take you ashore afterwards for the all-important teas and prize giving. In addition, three all-day special cups events are held in St Mawes.
Falmouth Week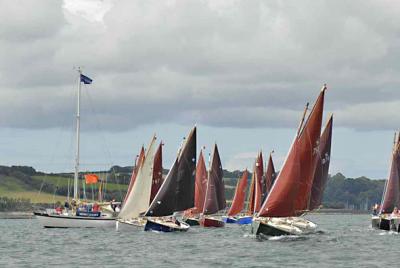 This is a major event during the second week in August organised by POFSA for all classes of boats. One of the, somewhat untidy, starts is shown above. Hundreds of boats take part in racing in Carrick Roads and Falmouth Bay. Normally about 25 Shrimpers enter for 7 races during the week, and if one has the strength there are also social events on every day. Shrimper owners normally restrict themselves to a dinner during the week and a barbeque plus prize giving at the end of the week.
Fun Week
A varied programme is organised late June/early July and can include almost anything. For example the picture shows a race tuition session with starts being practiced under the watchful eye of a local highly experienced race instructor. We hold the Peter Keeling memorial Race and sometimes even an 'engine' race where engines can be used for a certain percentage of the time, the actual figure only being revealed on the start line! Needless to say there is plenty of eating and drinking, sometimes including a cooking competition, plus sailing to beauty spots and rafting up for lunch. Some hardy souls stock up and live on board all week, hopefully catching a few mackerel for further sustenance.
Take on 'The Creeks of Falmouth'!
See how many of the Creeks you can visit using your Cornish Shrimper. Take a photo of you and your Shrimper 'Up The Creek', then submit your log to the SOA Falmouth Committee. Prizes to be awarded at the SOA Falmouth Annual General Meeting. Those that visit all of the Creeks listed (no time limit so take your time) will then qualify for a 'SOA Falmouth Creek Explorer' badge which they can proudly display on their boat / wear with pride!
Sail when the weather / tides / time is right for you and over the season fill in the boxes below for each location. Why not anchor and enjoy some lunch whilst taking in the beauty of the area!
Cruise the Creeks in Company: use the new SOA Falmouth WhatsApp Group to arrange a sail in convoy with other Shrimpers! Just let other Shrimper owners know the day you intend on going, a rendezvous location and time (eg. Meet off Mylor fairway lateral marks at 1100), which of the locations on the list you are heading for, agree a VHF channel, and off you go on a Shrimper adventure!
Click on the following link for full information:-
http://www.shrimperowners.org/sitefiles/SOA-Falmouth%20'The%20Creek%20Explorer%20Challenge%202019.pdf
*Please check the tides and the weather are suitable for your journey. Ensure your Shrimper has all the necessary equipment as per SOA requirements, and is seaworthy. As the skipper of your own boat it is your responsibility.
Day Sailing/BBQ's
One of our favourite locations is Roundwood Quay where there is an ancient earthworks and more latterly from where copper ore was shipped in the heyday of Cornish mining. Preparation of burnt offerings in full swing is shown above plus a fleet of rafted Shrimpers alongside. We carefully remove all litter afterwards of course. Some members members even fish (mackerel or bass) for their supper beforehand, and if successful are the envy of everyone.
Sunday Lunches
Once a month in the off-season we have a Sunday lunch party, usually at a country or waterside pub. Venues have included Jamie Oliver's '15' at Watergate Bay and the Pier House Hotel overlooking historic Charlestown harbour and its tall ships. Afterwards there is usually a walk to optimise the constitutional benefits, probably followed by a snooze when back home.