International Shrimper Week
INTERNATIONAL SHRIMPER WEEK/FORTNIGHT
This is the 'Flagship' event of the SOA calendar.
Usually held in June each year Shrimpers from all over the UK and Europe gather to sail their Shrimpers with others, meeting up with some old friends and some new, in many new and exciting locations.
There is a great feeling of camaraderie on these international rallies, to some extent the result of joint experiences. Many appreciate that extra degree of security of sailing in company when exploring new areas. Along with the fun, the adventure and exploration, many owners learn a lot about their boats and themselves when sailing with other Shrimper owners. Sometimes we sail in conditions that if sailing individually one might usually prefer to avoid but the experience only adds to the confidence we feel when sailing our remarkably seaworthy Shrimpers.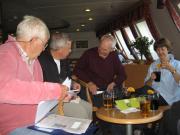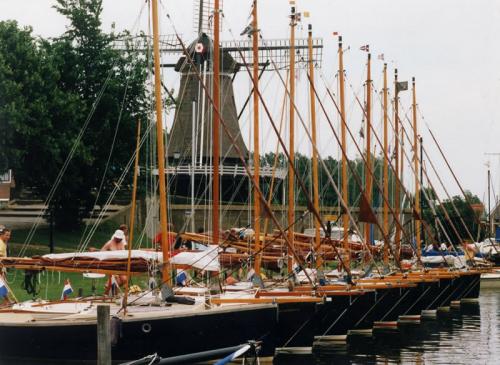 Our rallies have been held in many different locations over the years:-
2000 Brest (Brittany)
2001 East Coast
2002 Southern Holland
2003 Poole
2004 Wales
2005 Friesland
2006 Falmouth/St.Mawes
2007 Morbihan (Brittany)
2008 Plymouth
2009 Denmark (Baltic)
2010 Scotland
2011 Holland
2012 Falmouth
2013 Solent & Chichester
2014 St Malo
The usual format is that the first week is organised to provide interesting day cruises under the guidance of local owners who have the vital 'local knowledge'. During the first week a day is usually set aside for those keen on racing to compete for the Shrimper Challenge Cup ( See Shrimper trophies )
At the end of the first week there is a Prize Giving supper where there is always much enthusiastic discussion about the week's adventures and the various prizes are awarded, including the Challenge Cup.
The second week is generally of a more relaxed format where owners arrange and do "their own thing", usually in smaller groups. Perhaps revisiting locations or moving on to new areas and different harbours.
International Shrimper Week 2014 willl based at St Malo, Brittany and more information can be found on the dedicated St Malo 2014 page, although the entry list has now closed.
Looking ahead, in 2015 the venue will again be the Firth of Clyde in Scotland. For a general overview see the Scotland 2015 page.
Every SOA Member is invited to attend ISW, but be sure to get your entry in early as spaces are generally limited.