SOA Membership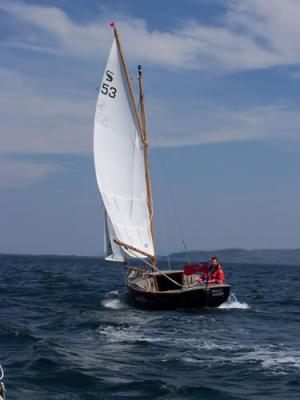 We hope that, having seen the range of information contained in this website and viewed the many photographs depicting the wide variety of directions Shrimper ownership can take, you will be encouraged to join and support the Shrimper Owners Association.
It matters not where you come from or what sailing experience you may have - the fact that you have decided to buy a Shrimper is sufficient - you are now a Shrimper owner, one of a band of a very special like-minded people.
SOA members come from a wide range of sailing abilities and expertise. Be you an old hand who has been sailing Shrimpers for decades or a newcomer in your first season, someone who rarely strays beyond their local waters, or a more adventurous type sailing far and wide, there is sure to be something to interest you. Combine this with the ability to trail your boat to new cruising areas, learn a little or perhaps teach a little and the options widen even further. Whatever direction you choose, you will certainly enjoy yourselves.
Membership of the SOA is open to all owners of both new and second-hand boats in all three sizes, Shrimper 17 (formerly Crabber 17) Shrimper 19 and Shrimper 21. There is a one-off joining fee of £45.00 but no annual subscription, Association funding being supported by the generosity of individual members who make donations from time to time. Any surplus revenues from Shrimper events and the profits from the sale of SOA burgees are also added to central funds.
The SOA maintains a Register of Members for each size of boat, published every two years (the latest edition being released in Spring 2016), containing information about members and their boats (boat name, sail number, inboard/outboard variant, home port, hull colour, etc.), based on information provided by members. Details for existing members upsizing or downsizing boats (e.g. Shrimper 19 to 21) will be moved to the appropriate register by completion of a BOAT TRANSFER FORM, which can be downloaded by clicking on the link below.
SOA members are kept up to date with events and activities around the country via this website and through the SOA Magazine (The Shrimper), currently produced twice a year. The magazine also contains items of interest, such as cruise logs, reports, technical items, photos etc., which members are encouraged to contribute.
So, if you have a Shrimper but have not yet joined the SOA, please get in touch – you'll find us a friendly bunch.
Click here to view and download a MEMBERSHIP APPLICATION FORM.
Click here to view and download the BOAT TRANSFER FORM.
Please print a copy of the form (Membership Application or Boat Transfer), complete all sections and return to Martin Blake, SOA Membership Secretary, enclosing the appropriate fee, at the address shown.